Kyusyu Maru - Ruiniu Wreck
The Kyusyu Maru was a 8,666 ton cargo vessel turned troop carrier, sunk on the morning of 15 October 1942 in a US aircraft attack. Sunk remarkably close to shore, her 4000 troops were able to disembark safely. She lies partially exposed on a beach north of Honiara, sinking one transport (the Kyusyu Maru) and setting two more alight. All this action was over by 1100. All the Japanese ships were successful in landing all the troops (between 3,000 and 4,000) and 80% of their cargo.  After the war the Kyusyu Maru may have been used for bombing practice by the Americans and in the 1960s there was some salvage work carried out by Australians.
The wreck lies on its port side at an angle of 45 degrees, running from 3 metres down to just over 45 metres.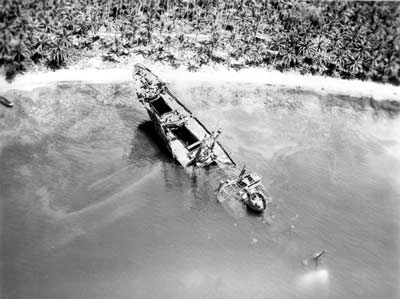 second world war left behind it a colossal array of shipwrecks in the Pacific islands. These images were taken on brief visits to numerous obscure, locally recommended sites around the Pacific islands; there remain scores of wrecks still undiscovered in these waters.